Posted by Chica at 2011-04-17 | Views: 2270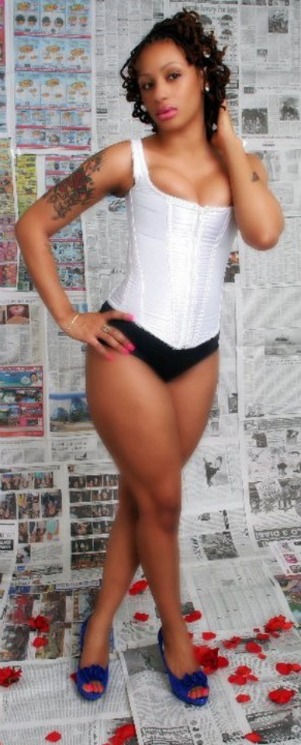 -What was the inspiration behind this shoot I asked? "Ive always admired that Marylin Manroe vintage vibe...."
Name: Racquel "Ra Ra" Nicholson
Stage Name: RaRa Tequila
Birthday: April 29th, 1989
Hometown: Kingston, Jamaica
Current Location: Hollywood, Florida
Height: 5'4
Weight: 142 lbs
Ethnicity: Jamaican- Jewish
Tattoos: 6
Piercings: 1
Nudity: No
Best Asset: Legs
Spunky and quirky I had the pleasure of interviewing Miss. RaRa Tequila, about her life and her modeling career. I was surprised that she was so young, but oh so sexy. Her look was definitely unconventional, and her story was too. A novice to the modeling world, she has done multiple shoots, a fashion show with dirtypeach.co a clothing line that uses recyclable material to make clothes, and has featured in Scotty Boi of Maybach Music video- "Luxurious."
I asked her how long has she been in America, "about 12 years she responded, I'm pretty Americanized." She was cute and her style definitely reflected one of an American pinup doll, but her voice had a splash of her native origin. She was well blended , and it was easy to fall in love with her character.
Her first fashion show was in the ninth grade, and although it was one of amateur status, she knew from then- that this was something she wanted to pursue. She decided to jumpstart her career after she graduated high school because at the time she was pregnant with her daughter who will be 4yrs old in August, Tynisha. She was determined to get back into shape and continue with her modeling career, which might I add she did a spectacular job at. Well along with a baby comes the baby carriage, marriage, and the whole nine yards. I asked if she was single or available, bashfully she responded that she was "off the market." Sorry fellas.
Although this urban pinup is unavailable, she has no problem being that eye candy that men crave for. Her photos are ultra sexy, but don't think this babe is all beauty and no brains, she aspires to obtain her masters in physiology. I asked her where does she want to go with her career, and she replied that she's pretty much open to all things, high fashion, print, runway, and more videos. I asked her as avant-garde as her look was did she think that would put a roadblock in her career with all her tattoos, locks, and her healthy weight she responded with, "they would have to take me as I am." Her edginess was attractive. I also asked her about her doing nude shoots, she exclaimed she has tried before but it didn't go well. Of course I had to get the juice, she told me she was swindled! The whole thing was a hoax, but also says, "it was an experience to learn from," because now she stays on the "good side" for the reason that she wants to be a great influence to her daughter. And yes I asked why is Tequila in her name, she said she loves her some tequila- now that's some juice we can all vouch for.
Racquel "RaRa" Nicholson
South Florida
Booking: (786) 270-6587
Email: NE.ModelManagement@gmail.com
BBM: 325DCE46
MODEL RARA PERSONAL PAGE:
http://www.facebook.com/RaraTequilaPP
MODEL RARA FAN PAGE CLICK HERE
http://www.modelmayhem.com/1809720
More From Models | Back to Blog Home
---