Posted by HBP at 2011-07-25 | Views: 409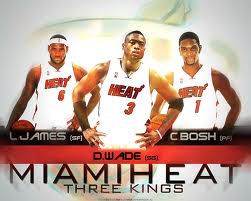 "Rome is not built in one day",just one of James many FAMOUS quotes this past season. NotIce the emphasis on
"FAMOUS". The media who were like the" Tabloids" when reporting on the Heat. The media blew up,screwed,every
word that came out of the mouth from any of the 3 stars. These guys were put together. This was their first year
together. One thing you cant screw and twist are stats,and this is why I love sports. All year I heard the haters."Wade
and James are the same player","Egos wont allow this to work",Whos gonna take the final shot",etc.,etc. When looking
into the numbers and reviewing the season as a whole.I would say it was a not only a good season ,it was a very
SUCCESSFUL season.The Heat were a ranked top 2 in defense and rated the number one in plus/minus
category.James and Wade were number 2 and 4 in scoring,which is incredible to do, when your thrown together and
have to mesh together and still reach the finals in your first year. Of,course this doesnt happen without Bosh.
Everyone's whipping boy!. Understand this, call him what you want and whatever outside opinion you may have
about him and his lifestyle. Without this guy,the heat dont have close to the season that just past. This guy still
averaged 18 and 9,with having the other two guys taking way more shots than him he will only and mark my words
he will only get better,he's only 26. Now, listen making the finals and not winning is bad,but just like Jason Terry
said in the finals "in 06 it wasnt our time and this time is our time".As bad as I hate to agree with that quote and
share the same disdain for the same guy,especially now that recently hes prancing on the new Young Jeezy video
shoot "WIN"(was talking shit about you, Lebron,its on tape,its personal now!)Terry was right,the Heat have to accept
it wasn't there time and keep believing in everything they have come together for. "The Process" that was preached
over and over by coach spo,needs to be enforced. Defense first and everything else comes after,but he should
bring something new to the element ."The Pain". He should remind these guys everyday to motivate them to finish
the mission this time. I honestly felt the heat made it to the finals of sheer talent,which speaks volumes of what can
really happen if they are properly motivated. Now, so far the roster is kinda incomplete right now and lets not be
blind to the lockout that WILL HAPPEN. and if you think the NFL are going through a long lockout wait until the NBA
start making press. It will be a shorten season,but we will have basketball. With that being said the needs are
obvious.I like the Norris pick,he will be a surprise to some and im predicting he will be the 2nd point guard. with his
elite speed and pick and roll skills he will give the heat more fastbreak oppurtuinities. The heat need SIZE,which
prove fatal for the heat in the finals,No answer Chandler. there was a lack of size in the middle.(even though i felt
spo should have used igakaskas more but im leaving that stuff for part 2) and so I introduce Samuel Dalembert,
The 7"1 center from Haiti is intrigue and knows south florifa has a strong haitian community, is a Free agent and is
rumored to sign with the heat. If he does "Look Out".Hes a athletic 7 footer and he brings everything the heat needs
a shot blocker and rebounder (he averaged 8.8 points and 8.5 rebounds in only 25 minutes coming of the bench at
times) Imagine hes the starting center. The heat would Dominate defensively.Also a must is a another wing
stopper. Wade and James are great 2-way players but are depended to score so much that while playing tough
defense wears them out.So, having a guy like shane battier who is also on the heat radar would be perfect there is
also grant hill whos brings dependability and veteran leadership.If the Heat can get these upgrades,watch out
cause it will be "not 1 not 2 not 3 not 4 not 5 and so on. The Heat are at the doorstep,its just up to them to break it
wide open!
More From Sports | Back to Blog Home
---