Posted by Cool Chip at 2011-06-13 | Views: 930
BIO:
In the age of music where auto tunes and misleading lyrics veil the not-so dynamic voices, and questionable personas, it is always a gift to be in the presence of the minority, realness. Newark, New Jersey native Pure's voice moves, admirably standing out amongst the mechanically altered, and the ever changing stories of origination. Pure's voice embodies a soulful, yet angelic sound exhibiting range, sincerity, virtuosity, and pure ol' talent. Influenced by Rhythm & Blues, Hip Hop, New Age, and Rock, Pure's music has become a magnetic sound, appealing to all ages. Pure states "As a songwriter and producer as well as a singer, I think it's important to continue creating music and let the fans make their own decisions as to what type of music it is rather than trying to fit my music into a category." Although Pure's imbedded global sound prohibits him from being categorized into one genre, he continues to remain a faithful servant to his New Jersey fans, by creating various club/house hits, a contagious genus that most New Jersians can appreciate, and even southerners these days.
With the release of his "I Am Pure" mix tape, Pure raised his popularity, and allowed his fans a closer look at who he is as a person, not just an artist or the popular "Mr. Body Talk". The "I Am Pure" project focused on revealing Pure's motivation, love, and dedication to his art , a perseverance foreign to many of his peers. Even through the misunderstandings, Pure chose sincerity to his passion, an act he calls love in his track entitled Exhibit Pure on the "I am Pure" mix tape. The mix tape reminds us that no matter how talented and confident one is, as humans, we still question ourselves. Pure's question to his self was; given all that he has gone through, how far would he continue to go for his love, music? Pure's music contains personality, humor, and is more than identifiable. Even through his confidence, Pure ensures that his music is relatable by covering the topics that everyone has fell victim to at some point in their lives; love, struggle, soul searching, and his ambition to keep his head above the tides, despite his barriers. The "I am Pure" mix tape expresses sentiments of loyalty, sexuality, and devotion, and is in essence, an assortment of twelve hot tracks surrounding everyday life topics.
In a city dominated by drugs, gangs, and gun violence, tough skin usually isn't enough to keep young men from falling victim to the everyday pitfalls of the ghetto. However for Pure, his music serves as his void filler, his outlet, and his motivator. Even in the midst of what many may see as a non-escaping situation, Pure chooses humility, and a focus on the positives. He rarely speaks on the negatives of his hometown known as "Brick City", NJ, yet in his music, he clearly makes it known that he represents "The Bricks". Pure is a wholesome example of what is real in today's industry; authentic vocals, real talent, and a genuine concern for his art, as well as his home city. Pure states "Music is my escape, my life story, my love and motivation. I just simply try to offer that gift to the world." For pure, his journey means triple the work, as he wasn't afforded the opportunity of being born into a celebrity household, or knowing a list of A& Rs ,and other music industry reps. His music is his pitch , and played a major role in bringing him thus far. Pure is much more than just the next young artist trying to make it. Pure is a phenomenon with a story that will be told, driven by ambition and melodies. It is always a pleasure to meet a talented artist with such confidence, grace, and charisma, yet carries himself with humility. There is no wonder why Pure's music transcends age, race, genre and time.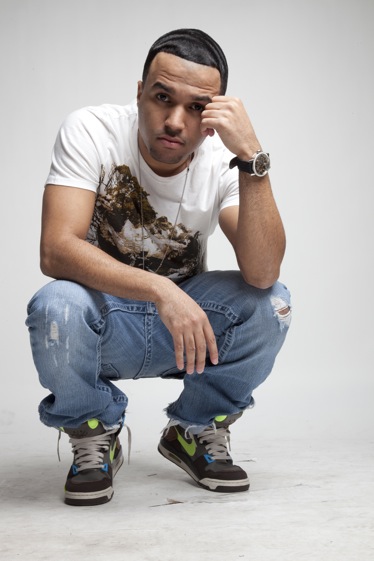 FUN FACTS:
DOB 7/26/88
Born and raised in Newark NJ
Passion: Basketball, music
MIXTAPES:
Upcoming Mixtape called Raw and Uncut (release date May 3rd)
Body Talk, Sample, Angel In the Room available on Itunes
Major Accomplishments:
• DJ Booth 2008 Best of the Booth Awards Nominee
• DJ Booth Ranked # 1 on R&B charts 7 weeks consecutively
• Staff Pick for best unsigned R&B artist
• Body Talk single played Hot 97, Power 105.1, Chicago, LA, Florida, Vegas, Africa, China,etc, Music Choice
• Over 1 million total views overall on youtube
• Last Time You Cry video (Domestic Violence Campaign) placed on inflexwetrust site, Angie Martinez, Hot 97 site, 98.7 Kiss site, Lenny Green site, Dj Enuff site, NJ starledger site,
• Features with Maino, Reek Da Villain, Sheek of the Lox, Red Café, David Rush, Uncle Murda, Grafh, etc
• Priviledged to perform in almost every major club in the tri-state area
• Performed at Club Taj , Soiree, Webster Hall, Talay, Pacha, China Club, SOB's, Village Underground, Sofa Lounge, Amnesia, Mansion, Sugar Bar, Tonic, Beso Lounge, XL Lounge, Studio 4, Dolce, Dekko, Abyss, Club PURE, Divas, 4sixty6,Club Allstars, Club Ole, Tribeca, Bacchus Lounge, Destinos, Bambu, Allure Lounge, Mambo Lounge, Casino Club, Maritsa Cantina, Jersey Girls, Cinderellas, Club Horizon, etc
• NJ's most demanded unsigned artist
• Blasted/bombed by one of Ny's #1 DJ Flex show, performed with likes of Fabolous, J.Cole, Miguel, Nore, Red Café, Fred The Godson, Cipha Sounds, Funkmaster Flex, Dj Camilo, DJ Prostyle, DJ Enuff, DJ Self, Big Dennis, Dj Kast-one, etc
DOWNLOAD:I am PURE MIXTAPE @ www.datpiff.com/PURE-i-AM-PURE
FOR BOOKING:
The Industry's Alternative
Apex
CEO
apex@industrysalternative.com
973-954-7842
CHECKOUT PURE NEW SINGLE "THE STARS" IN OUR SINGLE SECTION.
VIDEO BELOW:
More From The Spotlight | Back to Blog Home
---